About Us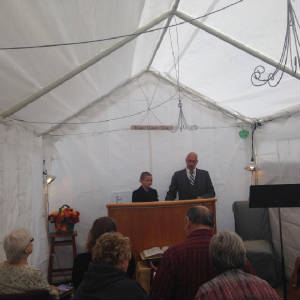 We are an assembly of Bible Believing Baptists in Imperial Beach California. Imperial Beach is the Southwestern most city in the Continental US on the Mexican border.
Our goal is to glorify GOD, and to educate followers of Jesus. We sing the old hymns and strive to be faithful Bereans, daily searching the Word of GOD. We are a King James Bible Church.
The Bible tells us in Ephesians 2:8-9 that "It is by grace (God's gift) we have been saved and not by works (human effort)."
Lots of people believe Jesus was a good man... some even believe He is the son of GOD...However ""belief"" means that you put your trust in Jesus with everything you DO! Your life revolves around Jesus... That is what we mean by belief!!!
I encourage you to begin reading the Gospel of John in your Bible. ...
Romans Plan of Salvation:
Romans 10:9 That if thou shalt confess with thy mouth the Lord Jesus, and shalt believe in thine heart that God hath raised him from the dead, thou shalt be saved.
Rom 10:10 For with the heart man believeth unto righteousness; and with the mouth confession is made unto salvation.
Rom 10:11 For the scripture saith, Whosoever believeth on him shall not be ashamed. Rom 10:12 For there is no difference between the Jew and the Greek: for the same Lord over all is rich unto all that call upon him. Rom 10:13 For whosoever shall call upon the name of the Lord shall be saved.
Brother Peter Has a prison ministry. He ministers to dozzens of prisoners across the country, often talking to several a day.
Bro Peter came out here to Imperial Beach several years ago after marrying his childhood sweetheart to start a Bible Believing Church.
We meet for a preaching service Sunday evening at 5:30. We have a Ladies group Monday evening and Bible teaching Wednesday evening at 6:30 at the pastors home.
Pastor has an internet Bible teaching show on Blog Talk Radio 6PM Thursday Pacific time. call in
# 347-945-5416 #1
Pastor is in the process of starting a Bible institute. We will have details available Asap.
Our Missionary:
Our Missionary, Bro Lawrence Bowman, Is dedicated to helping orphans & is involved in combatting human trafficing across the world.
http://www.orphanfrontier.org/